We took a trip to Eastern NC to check up on our customers, Tiffany and Paul Woodard, and WITN tagged along.
ATLANTIC BEACH, NC (WITN) On a hot sunny day like we had Thursday you may wish you were one of the thousands in our state harnessing the power of the sun to power your home.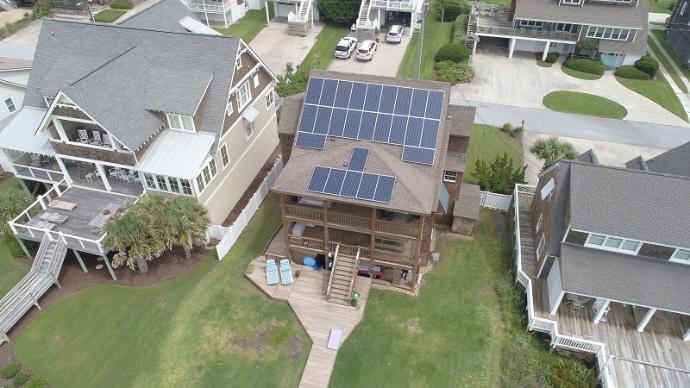 Duke Energy says as of the beginning of this year, they had 5,000 customers with solar panels in the state, including here in eastern Carolina.
Tiffany and Paul Woodard of Atlantic Beach in Carteret County are among those customers
Tiffany says, "Anything you can do to make yourself more self sufficient with either wind or solar I feel like it's a step in the right direction."
In March of 2017 the Woodard's had NC Solar Now out of Raleigh install solar panels on their 2,600 square foot home.
Paul says, "You're not using fossil fuels, you're using good old sunshine up there."
While it may benefit the environment, the Woodard's main motivation was to save money on their power bill.
Tiffany says, "And it was a bill we're paying for that was incredibly high each month and the only thing you saw out of it was energy. You never got anything back from it."
There are a couple of ways solar systems can work. You can have the power stored in a battery yourself, or you can sell it back to your utility provider, which is what the Woodard's do.
Paul says, "It feeds directly back into the grid for Duke Power so we get kilowatt hour per kilowatt hour credit on our electricity."
For the Woodard's that's typically 40 to 50 kilowatt hours a day. And it adds up. In September of 2016 their bill was $379.92. Last September, after the solar panels were installed, their bill was $175.26. That's a more than 50 percent savings.
Tiffany says, "Which is real money when you start talking about what you pay out every single month. It's real money."
It also cost real money to install the system. The Woodard's was $28,000. It was reduced by a 30 percent federal tax credit and a rebate from Duke Energy. Duke says since July more than 1,500 people have applied for that rebate, which averages around $5,000.
Paul says, "Well it's going to pay for itself in ten years."
After that it's all savings.
Hannah O'Brien from NC Solar Now says there's no limit on how low someone's power bill could go.
O'Brien says, "Some people want to get to net 0. They don't want to have a utility bill and as long as you have that capacity we can get you to where you pay zero money to your utility company."
For the Woodard's, going solar has given them a sense of
energy independence
and a sunnier outlook on their power bill.
Tiffany says, "I think it's the future. I just thinking about the money it's saving us everytime and I'm like cha-ching, cha-ching."
The Woodard's and NC Solar Now say research and development shows the cost to install solar systems is coming down.